Moto Guzzi have been celebrating their 100 year anniversary in style: first some special editions, next a new factory and now a whole new bike. But not just any bike – a bike that takes a giant step forward for the marque, bringing them out of the last century and into the next one.
Moto Guzzi have given little away about the V100 Mandello bar its name and that they will release it in full at the Eicma trade show later this year but our info antennas have been twitching to find out as much as we can.
For a start the bike is powered by a brand new 1000cc water-cooled engine. Until now Guzzi have rigidly stuck to air & oil cooling, so this new motor will provide a serious uplift in performance.
We'd expect around 130bhp from the new twin along with plenty of torque. Getting this power to the ground is a brand new single sided swingarm, with tradtional shaft drive.
The new Mandello has been aimed squarely at the sports touring market with special consideration given to rider comfort.
For a start its got big well-padded seats, an upright riding position and an adjustable screen. But the wind beating tech extends further, not just to clever little heat shields behind the headers but also to a pair of 'active aero' wings either side of the tank.
That's right – there are two wings that can be deployed outwards to divert wind away from the rider.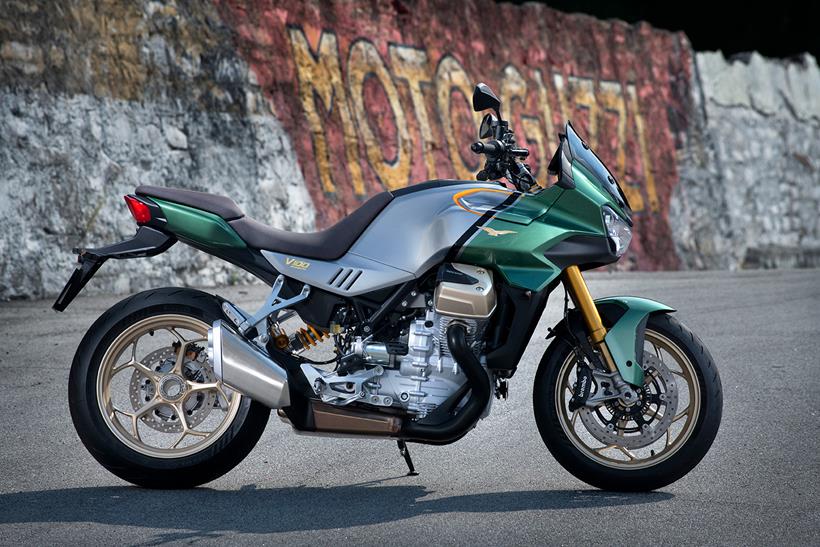 Sister brand Aprilia have shown themselves to be working on active aero for sportsbikes but this will be the first machine to bring it to the real world.
The Mandello will also have the full-colour TFT dash from the V85TT, which no doubt will come with all the usual ride enhancing electronics such as smart phone connectivity and cruise controls, as well as safety features like cornerning ABS and lean sensitive traction control.
We won't know the full story until Guzzi unveil the details on November 23 but until then we do know we can barely wait to ride it!
The official presentation of the new motorcycle will take place on 23 November 2021 at the EICMA international motorcycle show in Milan.